Robert Arakaki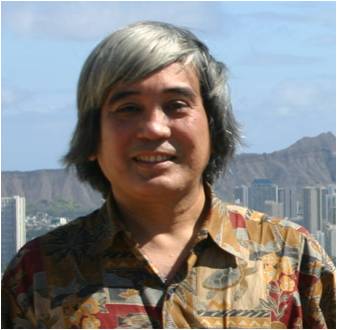 Question 1 – Please tell us about yourself. Where did you grow up? Have you ever lived on the mainland or overseas? Where did you go to school? What is your present occupation?
I'm a sansei, a third-generation Okinawan. I grew up on Alewa Heights, right next to the Kamehameha Schools in Honolulu. I went to Ma'ema'e Elementary, Kawananakoa Intermediate, then McKinley High School. After that I went to UH Manoa, where I majored in political science. I spent six years living on the mainland. I studied at Gordon-Conwell Theological Seminary, a conservative Calvinist seminary in Massachusetts. After that, I spent three years as a doctoral student in comparative religion in Berkeley, California. I eventually switched back to political science when I realized I was a political scientist interested in religion as a political variable. Currently, I teach political science and introduction to world religions at a local college.
Question 2 – Tell us about your church/religious upbringing. Did you grow up in a religious family? What religion was your family? How did you come to faith in Jesus Christ?
My family was not religious. I only went to church two times while I was growing up. At the age of eight I decided that there was no god, so when my parents attempted to send me and my sister to church, I rebelled. I ran to the bookcase, pulled out the Worldbook Encyclopedia and pointed to the section of the U.S. Constitution that guaranteed freedom of religion. At the age of eight or nine! When I was sixteen, my mom passed away unexpectedly. My Uncle David, who was a Methodist minister, conducted the funeral. Afterwards, he sent me a copy of the Living New Testament. Because I like to read, I started with the Book of Matthew and read all the way through the Book of Revelation. In the course of reading the Living New Testament I had a conversion experience. When I read Matthew I encountered the wisdom and righteousness of God and became aware of my sinfulness. When I came to Paul's Letter to the Romans in which he wrote about having faith in Jesus Christ, I put my faith in Christ and at that point became a Christian.
I did not give up atheism because of some brilliant logical argument but rather because I encountered the reality of God. That was over nearly half a century ago, but the reality of God's presence still persists. Transitioning from atheism to faith in Jesus Christ involved a wrenching existential reorientation. One does not just intellectually accept the existence of a Supreme Being; rather one encounters the reality of Jesus Christ, who is the Lord and whom you commit your life to.
Question 3 – What was your religion/church affiliation before you became Orthodox? How did you first learn about Orthodoxy? What attracted you to Orthodoxy?
My home church for about twenty-four years was Kalihi Union Church (KUC). It was a warm, solidly- evangelical congregation in a liberal mainline denomination (the United Church of Christ, UCC). Through KUC, I was able to trace my spiritual lineage to the Congregational missionaries, to Puritan New England, to John Calvin's Geneva. This played a major role in my decision to study at Gordon-Conwell Theological Seminary in Massachusetts.
At the time, I was part of a renewal group that wanted to help the UCC to return to its biblical roots. The UCC was quite open to non-orthodox doctrines. Oftentimes they would dismiss conservative, biblical positions by saying: "That's just your interpretation." I was majoring in church history at seminary, so I countered liberal theology with historical theology. I would point out: "You can choose to hold this particular doctrine, but keep in mind that the doctrine deviates from historic Christianity. This historical approach led me to the early Church, to the Church Fathers and the Ecumenical Councils, and in time to the Orthodox Church.
Question 4 – What is it like being an Orthodox Christian? Would you describe it as easy or hard? Has being Orthodox deepened your relationship with God? What advice would you give to anyone considering Orthodoxy?
The shifting theological fads among mainline Protestant liberal denominations and even among Evangelicals are like the storm-tossed sea alluded to by the Apostle Paul in Ephesians 4:14. The Orthodox Church is like a safe harbor for a weary traveler who has had to traverse stormy seas. There is tremendous stability in Orthodoxy. It is deeply rooted in historic Christianity. This doctrinal stability is in large part due to the centrality of the Liturgy in Sunday worship. In Protestantism, the Sunday worship service depends a lot on the individual pastor's whim. In Orthodoxy, the priest's responsibility is to faithfully celebrate the Eucharist.
What I find challenging about Orthodoxy is its holistic approach to the Christian life. In Orthodoxy doctrine is integrated with Sunday worship, daily devotions, and the ascetic disciplines of the Church. When I was an Evangelical, fasting was presented here and there as an option. In Orthodoxy, however, fasting is an integral part of the Orthodox lifestyle. While I still make use of the Evangelical "praying from the heart," I now make use of the set prayers in Orthodoxy. Through these prayers I am drawing upon the deep spiritual wisdom of the Church. Picture a child sitting at the piano and being told to make music from the heart, and another child being slowly trained in the classics of Mozart and Bach. Which one is more likely to progress musically?
My advice to inquirers is that they keep in mind that, while the Orthodox Church is the true Church, it is not a perfect Church. It is a gathering of fallen human beings in the process of being transformed into the likeness of Jesus Christ. At present, if one wishes to convert to Orthodoxy, he or she will have to join an ethnic Orthodox parish. In terms of missionary outreach, Orthodoxy in Hawaii is still in its infancy. A mature Orthodoxy in Hawaii will have gone beyond its Greek and Russian ethnic roots to reach out to Hawaii's diverse, multiethnic society. Hopefully, the day will come soon when there will be Orthodox parishes with all-English Liturgies. Orthodoxy, with its historic Christian Faith, still remains Hawaii's great hidden secret. It is like a hidden treasure in a field, that when a man discovers it he sells all that he has in order to acquire that field (Matthew 13:44).